Waukegan — North Shore Gas today unveiled Innes, an Airedale terrier who lives in Zion, as its new safe digging "ambassadog." The ascension of Innes (pronounced "INN-iss" — rhymes with "Guinness," like the beer) to the high-profile job was announced this morning at the Chicago Botanic Garden, where the pup proudly stood before cameras.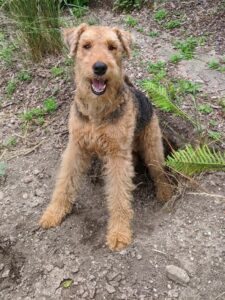 Innes is six years old, and digging is his favorite hobby. He also loves hiking and being outdoors in all Chicago seasons.
Innes's human mom was born in Scotland and named him after an 8th century King of Scotland. Fitting for a king, Innes is exceptionally smart. In addition to being noted for his strong and safe digging, he has won American Kennel Club awards for doing tricks such as rolling over, taking a bow, playing dead and playing hide-and-seek.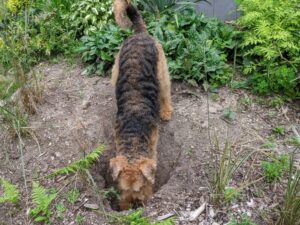 Innes became the safe digging ambassadog after entering the North Shore Gas Doggone it! contest, in which customers send in photos of their dogs digging. The public then voted online to decide which dog won, and Innes received the most votes. As part of his "ambassadogship," Innes will be featured for the next year in North Shore Gas promotional campaigns to raise awareness about safe digging and the importance of dialing 811 at least 48 hours before starting any digging project.
About 811 Day and safe digging
Innes's win was announced on national 811 Day, which is held every year on Aug. 11 (8/11). It's a day to remind people to call 811 at least 48 hours before starting any outdoor digging project. Digging without knowing where utility lines (e.g., natural gas, electric, water, sewer, communications) are located can lead to line strikes, serious injury and property damage. When Chicagoans in the suburbs and city call 811 at least two days in advance, expert technicians will come to their properties, at no charge, and mark the spots where underground utility lines are located. The idea is simple: Know what's below. Calling 811 before digging also is required by law.
In addition to the announcement of the safe digging ambassadog, today's 811 Day event featured demonstrations of how experts locate and mark buried utility lines after people call 811.
 North Shore Gas has 2,300 miles of underground pipelines for the distribution and transportation of natural gas in its service area. Natural gas, electric, and other utility lines are buried underneath property throughout the area and could be in striking distance of anyone digging into the ground.
Go to the North Shore Gas website for more information about 811 and safe digging practices.