Laryessa Ross, Field Services Supervisor, North Shore Gas Field Operations
What is your role at North Shore Gas?
I'm a Field Services Supervisor in the Field Operations department. I serve as a liaison between North Shore Gas and our customers, and also between the operations department and all the other departments at the company. When a customer raises a concern to North Shore Gas, the concern is usually sent to me first. If I can fix the issue myself, I'll fix it. If I can't do it myself, I'll find the right person who can do it.
In many ways, you are the face of North Shore Gas. That's a big responsibility.
It is, and I like the job. When I reach out to customers, their initial response is often "Wow, you actually called." They're happy to hear from me and they know I'm there to help. I provide help very quickly. My goal each day is to investigate every issue as soon as it's sent to me. I usually get on the phone with the customer right away. I like to be open and candid with them. I believe that goes a long way. When you talk with them, hear them out, and then follow through with a solution, they really appreciate that. They see that I'm trying to resolve their issue. I'll even give people my direct phone number. I want to make sure they have it in case they have any questions or concerns in the future. I treat each customer the way I would want to be treated. So when I speak with them, I look at the situation through their lens. North Shore Gas gives me leeway to make decisions and help customers the way they need to be helped.
I also have internal customers — co-workers from other departments who are working on issues that require my help. It's important to treat my internal customers as well as I treat external customers. So I make a point to always get back to my internal customers very quickly as well.
One other aspect of my work is to recommend and develop process improvements. I look for trends, and when I spot them I look for opportunities to mitigate those issues through the appropriate systemic changes. That takes collaboration with team members throughout the organization, and in the end it adds up to a better experience for customers and better efficiency for North Shore Gas.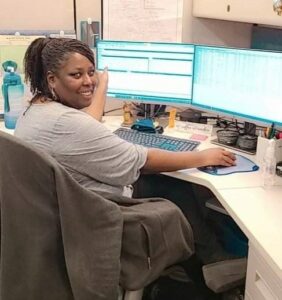 Tell us about your career growth at North Shore Gas.
I started with the company in 2000. My first role was answering phones in the customer service call center. After about six years, I was promoted to Team Leader in the call center and then moved to Quality Assurance Monitoring Analyst. Being a "Q.A." involved coaching our customer care agents to help them grow their skills and help customers in the best ways possible, and spotting and fixing problems through improved processes and training. In 2010, I started working in the downtown Chicago office, doing this work for Peoples Gas as well as North Shore Gas.
 Around that same time, while continuing to work, I also enrolled in college and earned my associate degree and bachelor's degree. I wanted to earn a promotion, and I knew having a college degree was something the company factors in when it makes decisions about promotions. I took that very seriously. My goal was to eventually get back to the North Shore Gas offices in Waukegan and I knew in order to do that, I would have to get a job in the operations department. So I made the company aware that was my goal. With my college degree in business, plus all my experience, I interviewed for a job in operations at the Peoples Gas North Shop, and I got the job as a supervisor.
As a supervisor of operations, I got experience being out in the field with technicians, seeing how their jobs work. I watched turn-ons, meter work, and did a lot of training. I learned the processes very well. My customer service experience was helpful in this role. It was a unique skill that I brought to the team. In 2016, I finally moved back up to Waukegan and started in my current role as Field Services Supervisor for North Shore Gas.
The various roles I've played help me understand processes from all angles. I like my job! I am thankful for the people at North Shore Gas and Peoples Gas who saw my work ethic over the years, took note of it, and gave me a chance and had faith in me. 
Tell us a bit about your life outside work.
I am married and have two sons, two stepsons and four grandkids. One thing I've been doing outside of work is taking a class in how to pray effectively. The class is about how to pray for others. It's called intercessory prayer.
I'm a member of Habitat for Humanity Lake County. I've been a recipient of the program. They helped me get a house. I've learned a lot about construction. I just remodeled my own kitchen. It turned out wonderfully. I spend a lot of time around the house, taking pride.
 I also like music. I have a brother who is a very successful DJ in Chicago. He's into neo-soul music and he got me into it.