Deb Bugailiskis, General Supervisor – Operations North Shore Gas
What is your role at North Shore Gas?
I'm a distribution general supervisor. In short, that means I'm responsible for making sure our customers are getting the natural gas they need to keep warm, shower and cook – and that the system is safe. I work with construction teams. I also respond to issues that require immediate attention to ensure everything keeps working in a safe manner. I supervise teams, typically with about 10 direct reports but it varies from day to day.
What's your typical day or week like?
I have a wide range of duties. My team gets a crew sheet detailing the work we need to do each day – from providing service to a new customer to digging work and system maintenance. We also go in the field and do safety inspections, assessing job sites for potential hazards and making sure all team members are taking the necessary safety precautions. A lot of our work is system upgrades that entail moving gas meters from inside a home to outside, and installing a new service line to the home. This work involves direct contact with customers. My team also takes care of our shop, our home base, in Waukegan. We make sure we have all the materials needed to do our jobs each day. And if any urgent situation arises that requires immediate attention, I'll switch to that right away. On any given day, I'm ready for just about anything. I like the work. It's challenging. There is no boredom.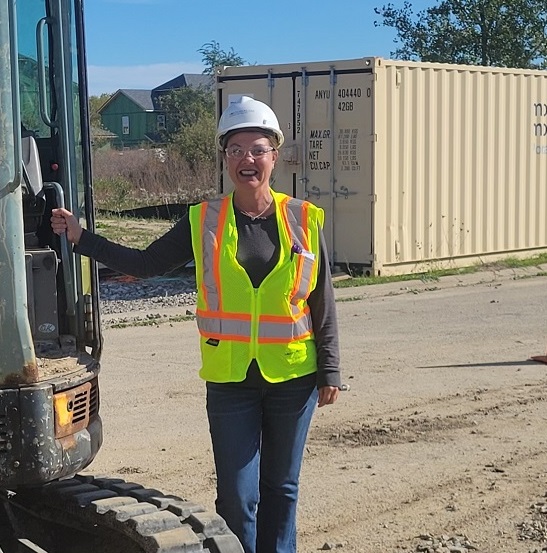 Tell us about your career growth at NSG.
I've been with North Shore Gas for 31 years. I've had a lot of roles, and each one helped build me up to where I am today. I started as a dispatcher. Then I worked in corrosion. I was on a team in charge of spotting and assessing potential leaks. I oversaw a regulator vault crew. I was an inspector who worked with contractors to install gas mains. I got a lot of my background from that job. But each one of these positions feed into the work that I do in my current role. I've worked very hard to be where I'm at, and when you've worked in this many areas, you know how things work and how the various teams and pieces fit together. So you gain respect for what other people are doing. That puts you in position to make things work better for everyone and for company.
Is there one part of your job that's your favorite?
Construction. Being out there in the field and around the workers. I'm a people person. Also, you run into so many different situations in the field, so you're learning something new every day. There's always an obstacle you need to find a way to work around. We put our heads together, and we find a solution.
Tell us a bit about your life outside work.
I have four children. Their whole lives they've heard me talk about natural gas, and they always know when Mom is on-call for the night. My daughter is especially proud of me. I feel accomplished because I've been a role model to her. She meets challenges head-on, and I always taught her that. Anything you need to do, just take it head-on. You can do whatever you put your mind to.
In terms of hobbies, I have a vegetable garden. Every year I grow pickles, peppers, green onions, and alot of tomatoes. I have full sun – the perfect spot for a garden. I like to cook, as well, and in the summer I like to swim. I also like music from the 1970s – rock, country and pop. I like it all.